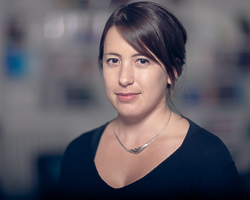 Angèle Christin is an assistant professor in the Department of Communication and affiliated faculty in the Sociology Department and Program in Science, Technology, and Society at Stanford University. She studies how algorithms and analytics transform professional values, expertise, and work practices.
Her book project focuses on the case of web journalism, analyzing the growing importance of audience metrics ('clicks') in web newsrooms in the U.S. and France. Drawing on ethnographic methods, Angèle examines how American and French journalists make sense of traffic numbers in different ways, which in turn has distinct effects on the production of news in the two countries. In a new project, she studies the construction, institutionalization, and reception of predictive algorithms in the U.S. criminal justice system.
Angèle published two books to date: an ethnographic analysis of a criminal court in the outskirts of Paris (Emergency Hearings: An Inquiry on Judiciary Practice, La Découverte, 2008) and an examination of recent theoretical and methodological trends in sociological research in the United States (Contemporary Sociology in the United States, with E. Ollion, La Découverte, 2012). She also worked on a statistical study of music taste and cultural participation in the United States and France, funded by the French Ministry of Culture.
Angèle received her PhD in Sociology from Princeton University and the EHESS (Paris) in 2014. She is an affiliate at the Data & Society Research Institute.